Greeting from the Mayor of Nagasaki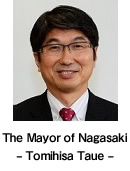 Nagasaki city has flourished as a port city that has seen extensive foreign trade and exchange for more than 430 years.
Since the opening of the port, a unique culture has been formed through contact with many foreign cultures. At present, there are countless historic sites and much traditional cultural heritage to be experienced at one of the city's many tourist attractions.
In 2006, the first "Sarukuhaku", Japan's first Urban Walking Tours Expo, was held across the city allowing visitors and locals alike a chance to learn about the history of Nagasaki and discover some of the city's charms. Since 2007, "walking around Nagasaki" has become a rooted trend in the city.
I would like to ask those who are planning to visit Nagasaki to take a walk around the streets and you will probably feel very welcome and at home.
This is the result of the long history of exchange with foreign cultures.
I hope that people from all over the world will come and stroll around the city and get a feel for the charms the romantic city of Nagasaki has to offer.